Solve this by either:
– Assign the destination drive/partition a driveletter
– Change the destination drive/partition driverletter to something else (this solved it for me)
E.g.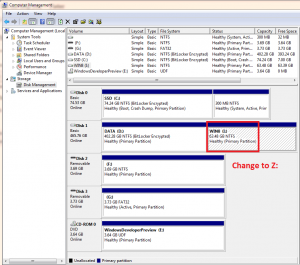 2 Responses to "Windows Setup cannot locate a valid hard drive to store temporary installation files"
HowdyKeith Says:
February 11th, 2012 at 3:47

I can't believe it, but changing the destination's drive letter worked.

kudoes to u…

Rocko Says:
December 20th, 2020 at 21:02

Hey guys, it still works on Windows 10. Glad they don't fix their bugs too much!
Post A Comment